How much risk should I take?
One of the first things to consider when deciding where to invest your money is how much risk you're willing to take.
While taking risk can cause your money to fall in value, it is also necessary if you want your wealth to grow in the long term, so it's important to find a level of risk that you're comfortable with.
As a general rule, the larger the potential investment return, the higher the investment risk and the longer you need to remain invested to help reduce that risk.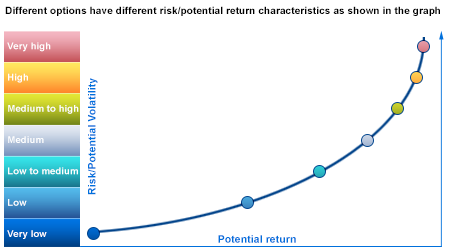 What's right for you?
All investment types carry their own risks.
Shares are considered a high risk investment because prices go up and down on a daily basis, but property values can also rise and fall, bonds are impacted by changing interest rates and the value of cash can be eroded by inflation.
You can never be 100% certain how much you will get back when you cash an investment in. The more certain you are, the less risky the investment is likely to be and therefore the lower the potential returns.
Some people can remain relaxed as their account balance fluctuates, while others become nervous if their account shows even a small drop in value.
You want to be able to sleep at night without worrying about what might happen to your investments the next day, so before you invest you should consider how you would cope if your investments fell by 5%, 10%, 20% or 50%.
By spreading your money across a range of different investment types, you can find an appropriate level of risk to suit your needs and limitations.
Things to consider
All investments carry some risk
The higher the level of return you want, the higher the level of risk
The more time you have to invest, the more risk you can afford to take
Consider the level of risk across your whole portfolio, not individual investments
Don't invest more than you can afford to lose