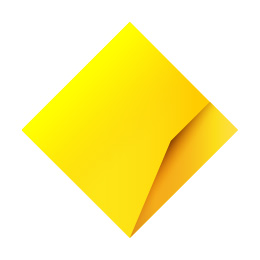 CommSec
 Big government spending, still-low interest rates and solid economic growth are all supportive of Aussie shares. 
 

The S&P/ASX 200 index has lifted for six successive days in anticipation of a stimulatory federal budget. The index is up by strongly, by 5.9 per cent in March, with just two trading sessions left for the month.

 

 
What does it all mean?
A big spending pre-election federal budget has produced many winners and few if any losers. Budget deficits can be positive for sharemarket returns as increased government spending (or less taxation) can boost company balance sheets either directly via contracting to government, or indirectly through increased household spending.
Government spending typically lifts in response to economic downturns – such as the 2020 pandemic recession – with consumer spending and business investment both generally lifting in response to sizeable fiscal stimulus. The boost to confidence is often supportive of risk sentiment and assets, such as shares. In fact, the benchmark S&P/ASX 200 index has soared by a massive 64.2 per cent since its pandemic nadir on March 23, 2020 (through to March 29, 2022), with government payments to individuals and businesses hitting 18.4 per cent of GDP since January 2020, according to data from the International Monetary Fund (IMF).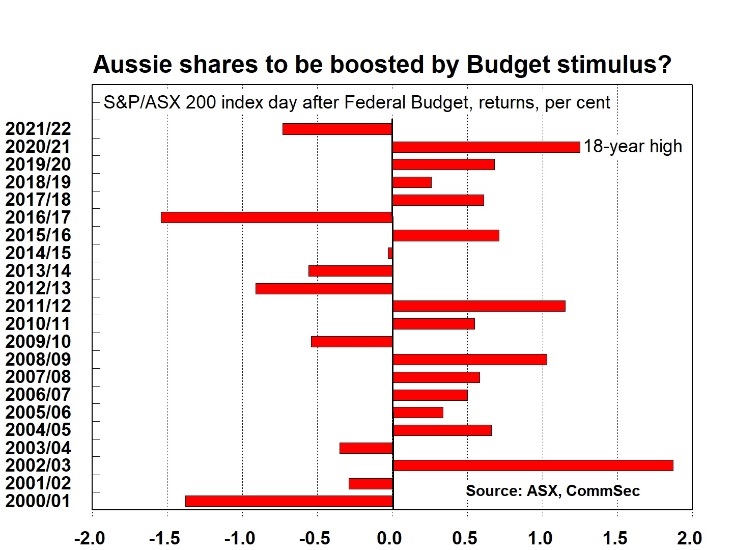 Government pandemic payments to households during lockdowns have boosted household savings. Data from APRA shows that deposits from households have increased by $249 billion between February 2020 and January 2022, hitting a record $1,238.1 billion. Excess savings, closed borders to international travel and rising home prices have supported consumer spending, so it's no coincidence that the ASX 200 Consumer Discretionary index is up by a whopping 97.7 per cent since March 23, 2020 – the third strongest performing sector behind Information Technology (up 113.4 per cent) and Energy (up 100.5 per cent) shares.  
Ahead of last night's federal budget, the S&P/ASX 200 index was up 0.3 per cent in 2022 year-to-date (March 29, 2022). The Aussie sharemarket has outperformed major global indexes, including the US S&P 500 index (down 2.8 per cent), the pan-European STOXX600 index (down 5.3 per cent), Japan's Nikkei 225 index (down 1.9 per cent) and the MSCI Asia Pacific Index (down 7.6 per cent). That said, the UK FTSE 100 index is a relative outperformer, up 2.1 per cent (all returns are in local currency terms).
A lift in commodity prices and a strong earnings outlook, with profit estimates for the S&P/ASX 200 index up 13.3 per cent since December 31, 2021 (using forward 12-month Earnings Per Share, EPS to March 29, 2022). Profit upgrades for the ASX 200 index are expected to exceed peers in 2022, including the S&P 500 index (up 4.6 per cent, year-to-date) and STOXX Europe 600 (up 7.3 per cent, year-to-date).
Historical data shows that the S&P/ASX200 index has gained on average just 0.2 per cent the day following each federal budget since the year 2000. In fact, big spending budgets don't always guarantee a strong return the day after the budget, with the S&P/ASX 200 index down 0.7 per cent in 2021, following a 1.3 per cent gain in 2020, the strongest lift in 18 years. ASX SPI futures are pointing up by 56 points or 0.7 per cent this morning.
In terms of the potential company and sharemarket beneficiaries of the 2022 budget, targeted government spending could benefit consumer, housing, defence and infrastructure-related shares. Specific policies and the possible sharemarket impact are detailed below:
Household spending: The government has cut its fuel excise by 50 per cent or 22.1 cents for six months. Low-middle income earners will receive a one-off cash bonus or 'Cost of Living Tax Offset' of $420 in 2021/22 to help with cost-of-living pressures. The budget has extended the tax offset for low-to-middle income households. There will also be a one-off payment of $250 to eligible pensioners and welfare recipients. Consumer discretionary and consumer staples stocks, which includes supermarkets and electronics retailers, such as JB Hi-Fi, Harvey Norman, Premier Investments, Metcash, Coles, Wesfarmers and Woolworths, could be beneficiaries of increased consumer spending. And fuel refiner and retailer Ampol could benefit from a lower fuel excise, without taking a hit to its margins, as consumer demand for petrol increases.  
Infrastructure spending: The federal government has committed $17.9 billion for new and existing road, rail and community infrastructure projects. In regional Australia, the $2 billion Regional Accelerator Program will diversify growing regional economies and create jobs in new and existing industries; and $21 billion has been committed for regional transport, water and communications infrastructure. Building materials, residential and commercial property developers, such as Adbri, Bluescope Steel, Boral, Brickworks, Cimic, James Hardie, Mirvac and Stockland could be in focus for investors.  
National security and defence: The government has increased defence funding to above two per cent of GDP; $38 billion by 2040 to lift the defence workforce by 18,500 personnel; $9.9 billion over 10 years to deliver a Resilience, Effects, Defence, Space, Intelligence, Cyber and Enablers (REDSPICE) package, enhancing the offensive and defensive cyber and intelligence capabilities of the Australian Signals Directorate and doubling its size; and $270 billion in defence capability investment to 2029/30. ASX-listed companies Austal and Codan are key defence-orientated companies.
Manufacturing: A manufacturing budget package worth more than $1 billion has been unveiled to accelerate investment in new industries, including onshore manufacturing capacity, semi-conductors, vaccines, and personal protective equipment and pharmaceuticals (PPE). Aussie manufacturers CSL, Incitec Pivot and Orora could be key beneficiaries.  
Telecommunications: The federal government will invest $1.3 billion in funding to enhance regional telecommunications. Heavyweight 'telcos' Telstra and TPG Telecom will be amongst the biggest beneficiaries of the government spending, alongside broadband providers Uniti Group and Aussie Broadband.  
Housing: The government has pledged $8.6 million to expand the Home Guarantee Scheme to 50,000 places per year. Up to 35,000 places per year will be available for first home buyers. The Family Home Guarantee will be increased to 5,000 places per year. And a new Regional Home Guarantee will offer up to 10,000 places per year. This policy should see a continued investor focus on the 'big four' banks – ANZ Bank, Commonwealth Bank, National Australia Bank and Westpac Bank – alongside regional banks, such as Bendigo & Adelaide Bank and the Bank of Queensland.  
Health care and disability: The federal budget includes $39.4 billion for National Disability Insurance Scheme; $6 billion extra for Covid-19, including a winter response plan. A further $368 million in additional funding over five years for Medicare. $547 million for targeted mental health and suicide prevention initiatives; $331 million to promote the health of women and girls, including to support the National Women's Health Strategy; and $28 million to commence work to establish Genomics Australia. Shares of health care providers Healius, Monash IVF, Sonic Healthcare and Virtus Health will be in focus for investors.
Aged care: $468.3 million extra to implement the royal commission's recommendations; and $345.7 million for residential aged care pharmacy services. Estia, Regis and Japara health care shares could lift on increased spending on aged care.
Small business: Small businesses (with aggregated annual turnover less than A$50 million) will be able to deduct a bonus 20 per cent of the cost of business expenses and depreciating assets that support digital uptake, up to $100,000 of expenditure per year; $2.8 billion for apprentices; and $2.2 billion to support Australian industries and universities to develop innovative companies and products. These initiatives could boost job-hiring company Seek. Also, car sellers and auto parts companies, carsales.com, Eagers Automotive and ARB, could also benefit from a pick up in demand for motor vehicles.    
Overall, CommSec's view is that continued government spending, still-low interest rates and solid economic growth are all supportive of Aussie shares. The S&P/ASX 200 index has lifted for six successive days in anticipation of a stimulatory federal budget. The index is up by strongly, by 5.9 per cent in March, with just two trading sessions left for the month. The ASX 200 index is relatively attractive to its global peers. In terms of its current valuation, the forward 12-month Price/Earnings (P/E) ratio is 16.4 times, while the index has a dividend yield of 4 per cent.       
Aussie sharemarket investors should continue to monitor developments in the bond market with rising bond yields and market interest rates lifting in anticipation of a Reserve Bank rate hike in the coming months to combat persistent inflation. At the same time, the Ukraine war, federal election (due by May), stagflation worries and potential Chinese policy stimulus are all likely to affect investor sentiment and Aussie company earnings. 
CommSec expects the S&P/ASX 200 index to finish 2022 in a target range of 7,400-7,700.