| | |
| --- | --- |
| | 🕑 4m |
| 4.2 How to research | 🕑 11m |
| | 🕑 8m |
| | 4 q's |
What this topic covers:
✓ Where to start looking
✓ Research tools to help you trade
✓ Independent researcher recommendations
✓ What other investors are buying and selling
✓ Stock screener, watchlists, alerts and charting
✓ Staying on top of market news
✓ Five ways to research a stock before you buy
✓ Play the sharemarket game
Research: the next stage of your investment journey
Where to start? With over 2,000 companies listed on the ASX, and plenty of financial information available, this is where the learnings from topics 1-3 really come into their own – because they tell you that you should be guided by your investment strategy.
One of the easiest ways to get started therefore, is to search for stocks that match your investment goals and strategy. Of course, there may be high-performing companies that don't match your research criteria that interest you, but if you stay focused and use your strategy as a guide, the investments that you choose may be more likely to provide you with your desired returns.
"Money is only a tool. It will take you wherever you wish, but it will not replace you as the driver."

- Ayn Rand, (Russian-American writer and philosopher)
Tools to help you discover opportunities
CommSec has multiple research tools to help guide your investment decisions. Here we'll take you through some of the most useful.
Consider recommendations
Impartial, independent research providers like Goldman Sachs and Morningstar regularly publish BUY, HOLD or SELL recommendations and these can be a good starting point for your research. Here are a couple of examples. The first shows recommendations from Morningstar on large caps while the second shows recommendations from Goldman Sachs on mid caps.
There are a number of filters you can use to select what you want to look at, such as market cap , sector or type of recommendation. Here's how it could work.
Say you wanted to invest in the healthcare sector. You could search for healthcare companies that were recently upgraded to a BUY recommendation and then use the results as your shortlist to begin narrowing your choices. It's worth noting that every recommendation comes with a report attached, so it's useful to read to understand why the research team has made that recommendation.
See what other investors are buying and selling
While you should always stay focused on your goals, it's interesting to see what stocks other investors are trading. This is also a good way to gauge market sentiment. Every week, CommSec publishes a list of the top 20 traded Australian shares and the top 20 traded International shares. Check them out.

Have a look at this video for some other trading ideas and CommSec tools you can use.

Apply the stock screener
A stock screener can be incredibly useful in helping you discover investing opportunities. It allows you to search for stocks using a set of pre-defined filters that match your investment criteria, such as "growth", "yields" , "momentum" and more.
Here's a closer look at the CommSec stock screener.
Set up a watchlist
A watchlist is a great way to keep track of stocks you're interested in. It's literally as the title suggests: a list of stocks that you're watching. If you've done the research and you're considering investing in a company, then the next logical step – before taking the plunge – is to add it to a watchlist. It's easy to set up and manage watchlists in your account or from the CommSec App. Here are some core benefits of creating watchlists:
List multiple stocks in any one watchlist

So you can monitor many companies at one time and in one place



Create multiple watchlists

So you can easily group stocks based on your goal or strategies



Track real-time price movements

To see price ups and downs instantly



See the depth of buyer and seller interest

Compare buyer and seller numbers



Stay updated on company announcements

And watch the effect on the price




Watchlists enable you to check the stock's performance on a regular basis and help you to stay focused on the companies you've researched.
Learn more about CommSec watchlists.
Set up alerts
Alerts can work hand-in-hand with your watchlists. As you get familiar with the price movements of a company in your watchlist, you might consider how much you'd be willing to pay for a share. You can then create an alert to notify you if the share reaches the price you'd be comfortable with. Here's how it can work.


There's a stock you like and you're willing to pay $10 a share
The price is currently $12.50
You set an alert to your

target price

of $10
If the stock drops to $10, you receive an alert
Alerts can be used in other ways, too. For example, you can be notified when a company makes a market sensitive announcement or when a stock goes
ex-dividend.
Alerts can also help you keep track of your investments.
Watch the video to see how to set up alerts.
Interactive charting
Price charts are another important way to monitor the performance of a company or companies over a given period of time and CommSec provides a suite of sophisticated interactive charting tools.



The easiest way to get a feel for how charts work is by logging in to your CommSec account and on the home page enter a stock code in the "Get a Quote" box shown here.


Once you enter the code, you'll see an overview of the stock's performance with a price chart underneath. There are multiple settings to choose from, including time periods, chart styles (such as

candle stick

and bar shown here), and overlays like

Bolinger Bands®

and

Simple Moving Average (SMA)

.
Once you have an understanding of how charts work, simply select your data to investigate a company thoroughly or compare to other stocks.
Staying on top of market news
To keep you up to date with the very latest news and help you identify your next investing opportunity, CommSec has an expert team of economists and market analysts reporting on every aspect of global and local market movement. Regular updates include:
| | |
| --- | --- |
| | The Markets has the latest market news and reports from our expert in-house team, including videos, stock prices and trends |
| | The Economic Insights Series provides general market-related commentary on Australian macroeconomic themes and implications for investors. |
| | In our Executive Series videos, our market analysts interview representatives from leading Australian companies to bring you the latest on potential investment opportunities. |
| | Research Wrap is a weekly email covering stocks and sectors to watch, economic forecasts, and key dividend dates. To opt in to Research Wrap, log in to your CommSec account and go to Settings. |
Five ways to research a stock before you buy
When you're researching a stock, every bit of information is just one piece of the puzzle; you should look at a range of sources. In that spirit, take a look at this article, which includes some of the tools we've already covered but also shows you how to undertake analysis of companies in five key ways. Have a look here.
Play the risk-free Sharemarket Game
It's time for a little exercise; a fun way to experience what trading's really like – without using your own money.
Some people learn through doing – and they might be happy to take their money, jump straight in and start trading. If that doesn't appeal to you, this Sharemarket Game from the ASX should. Here's how it works:
You get $50,000 in virtual cash
You can buy and sell shares in 200+ nominated companies listed on the ASX
Prices are live and real
You are charged a brokerage on each trade, simulating real sharemarket conditions
The beauty of this game is that it not only gives you a taste of buying and selling in a real sharemarket, but it also allows you to test your strategies. You can even win some prizes. Why not give it a go?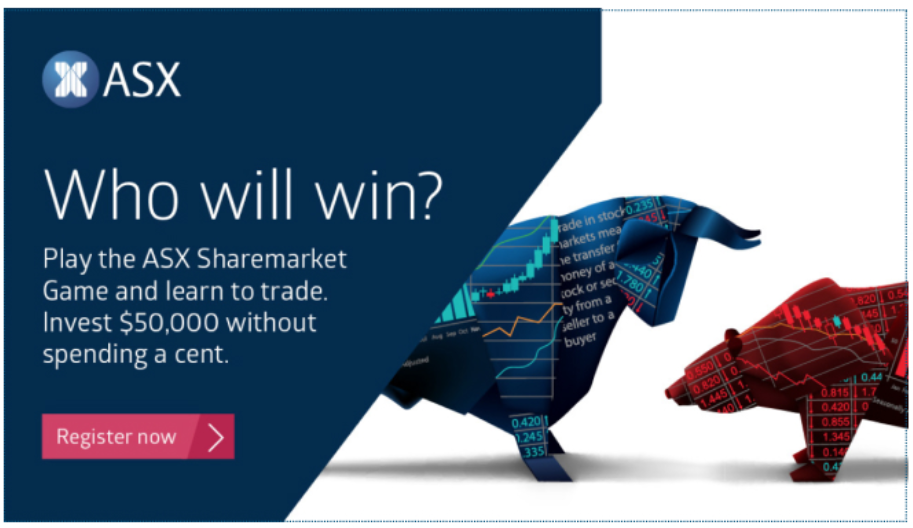 Next Topic: 4.3 How to trade
Disclaimer
CommSec Learn is intended to provide general information of an educational nature only. It does not have regard to the financial situation or needs of any reader and must not be relied upon as financial product advice. Investors should consult a range of resources, and if necessary, seek professional advice, before making investment decisions in regard to their objectives, financial and taxation situations and needs because these have not been taken into account. Any securities or prices used in the examples given are for illustrative purposes only and should not be considered as a recommendation to buy, sell or hold. Past performance is not indicative of future performance. Commonwealth Securities Limited ABN 60 067 254 399 AFSL 238814 (CommSec) is a wholly owned but non-guaranteed subsidiary of the Commonwealth Bank of Australia ABN 48 123 123 124 AFSL 234945 and a market participant of the ASX & Chi-X Australia, a clearing participant of ASX Clear Pty Limited and a settlement participant of ASX Settlement Pty Limited.