How to transfer shares from another broker to CommSec
What this guide is for
If you've got shares currently held with another broker, you can transfer them over to CommSec. This is known as a Broker-to-Broker transfer (B2B).
Why you'd do this
You previously bought shares and they are sponsored by (i.e. managed by) another broker. You now want to transfer sponsorship to CommSec so you can view and manage the shares through your CommSec account. 
How to know if this is the right guide for you
The shares are sponsored by another broker, like nabtrade (Wealthub Securities) or CMC Markets. The HIN of that sponsorship starts with the letter X. Where can I find my HIN?
The shares are owned (registered) by exactly the same party/name as the one on the CommSec account you're transferring to. For example, the same party would be MR JOHN SMITH transferring to MR JOHN SMITH. You can check this by comparing the name on a current CHESS statement with what's recorded in CommSec. How to check. 
More examples of same party vs different party

The shares are registered with the same postal address as the one on the CommSec account you're transferring to. Again, check this by comparing the address on a share registry statement with what's recorded in CommSec as your postal address. How to check
What you'll need
Your CommSec Client ID and password to download the form online
Steps

1. Log on to CommSec, click on settings, then select Transfer shares in the Service Request section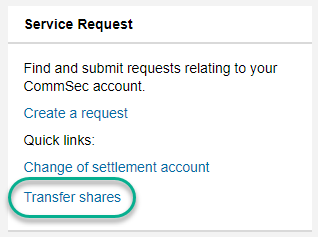 2. In the From drop down box, select Other broker account.
In the To drop down box, select the destination CommSec account.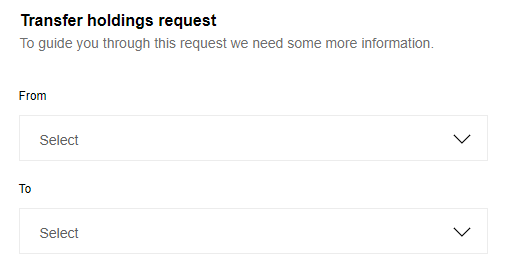 3. A B2B transfer will only be successful if the owner of the shares is exactly the same as the owner of the CommSec account.
This requires the same name and address spelling. Examples of same owners

If the spelling is different, you'll need to update this with either CommSec or the other broker to make sure they match before you do the transfer.

If the transfer involves different owners, then you'll be directed to perform an Off Market Transfer (OMT).
4. If the owners are the same, the name and address spelling are the same, select Yes.
If the owners are different, then select No.

5. Press Continue
6. Read the important information displayed on the screen. You'll then be directed to download a PDF form.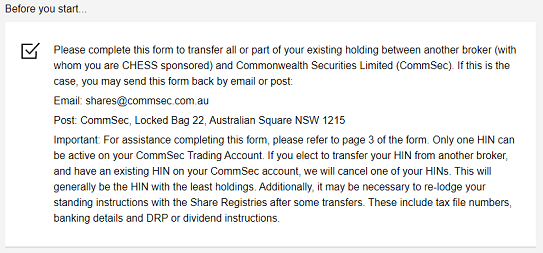 7.  Complete the form and submit it to CommSec using the instructions on the form.
What happens next
CommSec will verify the details on your form
The other broker will also verify the details on the form 
The transfer normally takes place within 2-3 business days
If there's an issue with the form or the transfer, we'll contact you by email.
Answers others found helpful